THE ENGLISH HOME
15th August 2023
The English Home is one of the UK's best loved magazines and is synonymous with luxury living.  It has long been a favourite of ours too which is why we choose them for our advertising campaigns.
Their relaxed editorial style celebrates timeless design which is just a little bit different, which is exactly how we see the kitchens and other rooms we create.
In the September issue our beautiful  Crondall kitchen has been chosen as their Edit of the month, with its elegant colour palette and exquisite fittings, this kitchen exudes our classic British designs. 
MISSION ACCOMPLISHED
25th February 2020
Our latest Case Study is available in the February issue of Essential Kitchen, Bathroom, Bedroom magazine and features our trademark luxe tailored cabinetry with plenty of hidden storage and a statement island.
BEST OF BRITISH
20th May 2019
We are very proud to be included within Essential Kitchen Bathroom Bedroom magazine's 100 page special on Bespoke Britain! The journey to this special edition, which is dedicated to handmade British kitchen design, began with lunch and a photoshoot held by the magazine's Editor Rachel Hicks and attended by the country's top designers. The lunch was a celebration of British design and examined what it really means to be 'bespoke' and the elements which combine to make the perfect space.
Our beautifully shot 4 page profile within the feature, showcases stunning imagery of our Wandsworth, Tadley and Hampshire kitchens with pull out quotes which really define the ethos of our business.
'We do things properly, offering longevity and quality. A passion for detail and helping people'
'We marry the latest technology with classic cabinetry, creating beautiful rooms that last'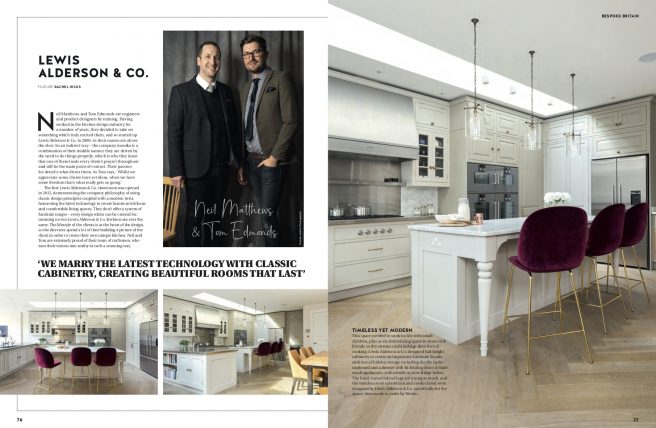 Beautifully COMPACT
10th January 2019
Compact 'galley' kitchens can be just as stylish as large spaces and this is perfectly illustrated by our Hartley kitchen which is featured in both Kitchen, Bedroom & Bathroom magazine and Period Living this month. Smaller spaces require imaginative design to really make the most of the available space. The Hartley kitchen may be bijou but is still oozing with luxury and features all of today's highly coveted extra's such as a larder cupboard, range cooker and a beautiful dresser with space for small appliances and an integrated entertaining fridge! Click HERE for inspiration.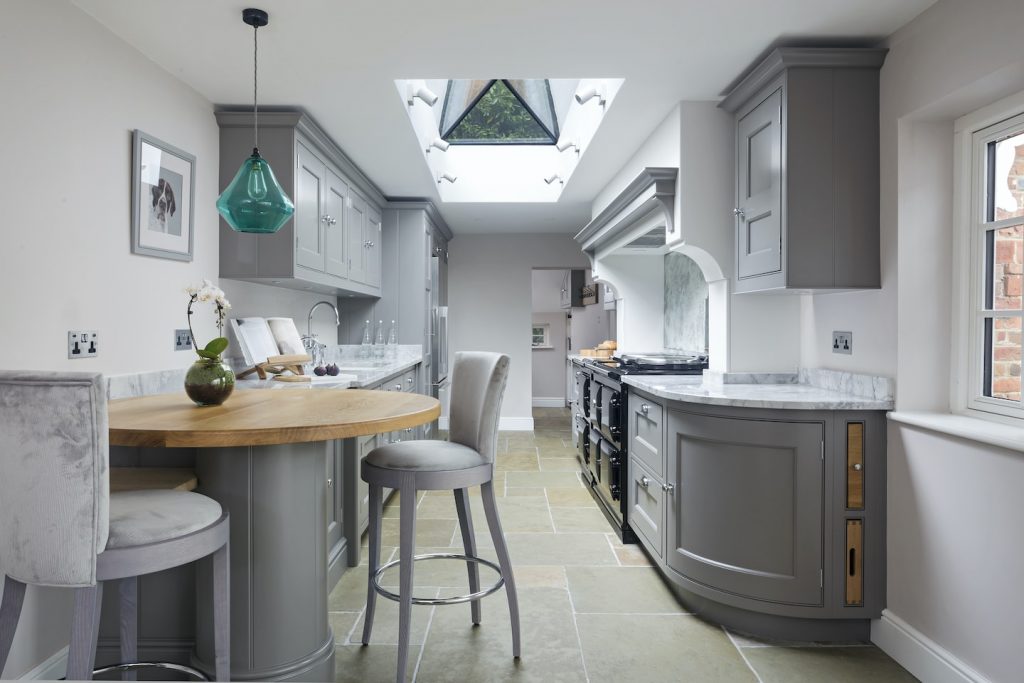 Utopia for Tadley
21st August 2017
Our stunning Tadley Kitchen has been featured as an 8 page feature in January's Utopia magazine. This farmhouse kitchen in Hampshire required a high degree of design ingenuity to fulfil the brief for this newly extended kitchen/dining space. The owners, who are keen entertainers, requested a space which was classic and homely but with the very latest technology on display. The kitchen we have created lends itself to small family gatherings and large parties with ample cooking and refrigeration space and plentiful storage! View all the images HERE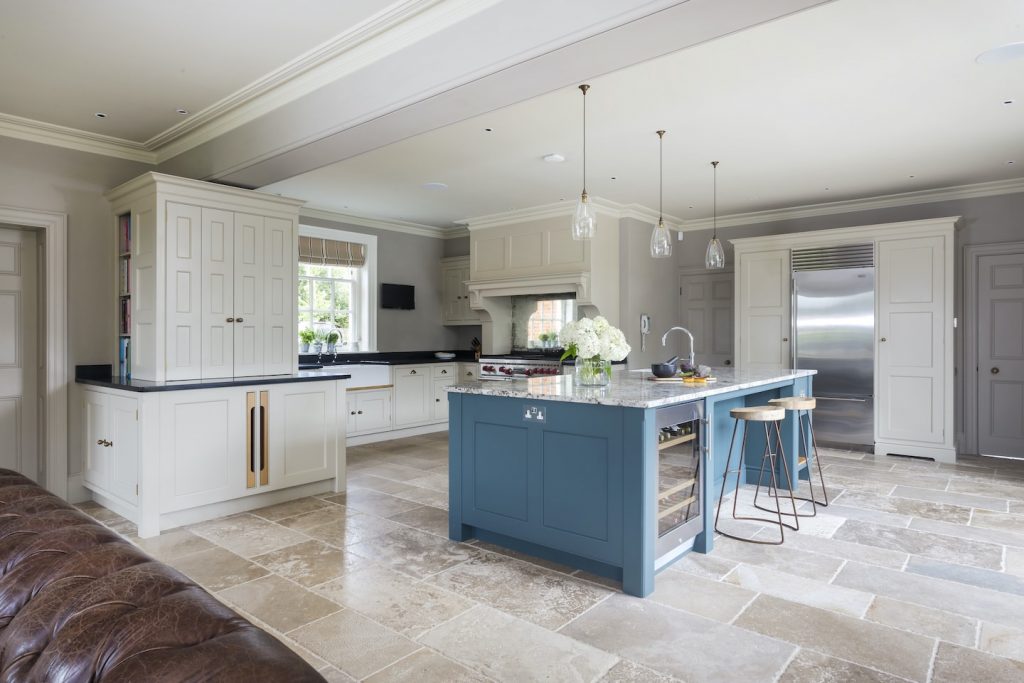 IN THE SPOTLIGHT
17th December 2017
Luxury Kitchen & Bathroom magazine Utopia have run a 'Spotlight' Interview with us in their November issue. The interview delves into our design inspirations, how our 'journey' began and our interior passions. Click on the image to read the full interview…
PERIOD DETAIL
7th December 2017
Illustrating the longevity of our furniture, our Chelsea Kitchen is still stunningly beautiful years after installation, as profiled in this month's Homes & Gardens magazine. With Georgian detailing to mirror the period of the house, the cabinetry was cleverly designed to maximise the space and provide practical family space whilst also delivering a glamorous backdrop for entertaining. See the full article in the January issue on sale now!
September Dream Kitchen
21st August 2017
Our beautiful Wandsworth kitchen has been chosen as September's 'Dream Kitchen' by the UK's leading interiors magazines Homes & Gardens. The design for this kitchen was a collaboration between Lewis Anderson and interior design consultant Paul Carter of Vivid. The brief was to create a sociable living, dining, kitchen which could provide space for a busy family and double as a fun entertaining space for guests. The elegance of the design and Paul's creative influence captured the attention of the Homes & Garden's editors who loved it's modern aesthetics. Buy a copy to read the full story!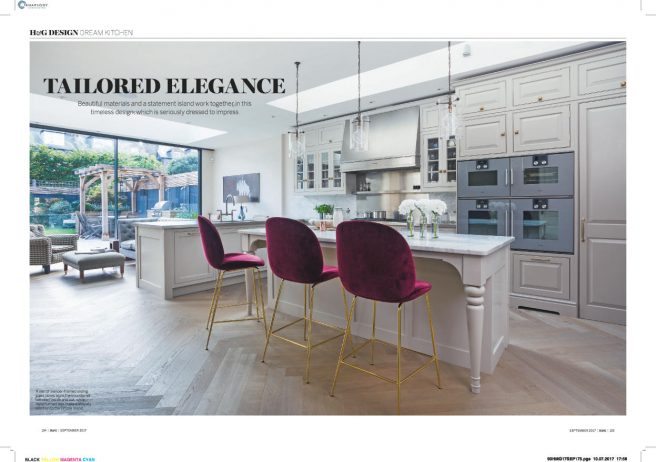 100 BEAUTIFUL KITCHENS
16th May 2017
Aceville have published their annual 100 Beautiful Kitchens this week, featuring three of our stunning designs. Our Wandsworth kitchen is described as 'opulent…adding a sense of grandeur' whilst our Hampshire kitchen is reported as having 'sophisticated style fit for a stately home'! Lastly, the calming palette used in our Esher kitchen creates 'Serene Living' with it's warm tones and personal touches.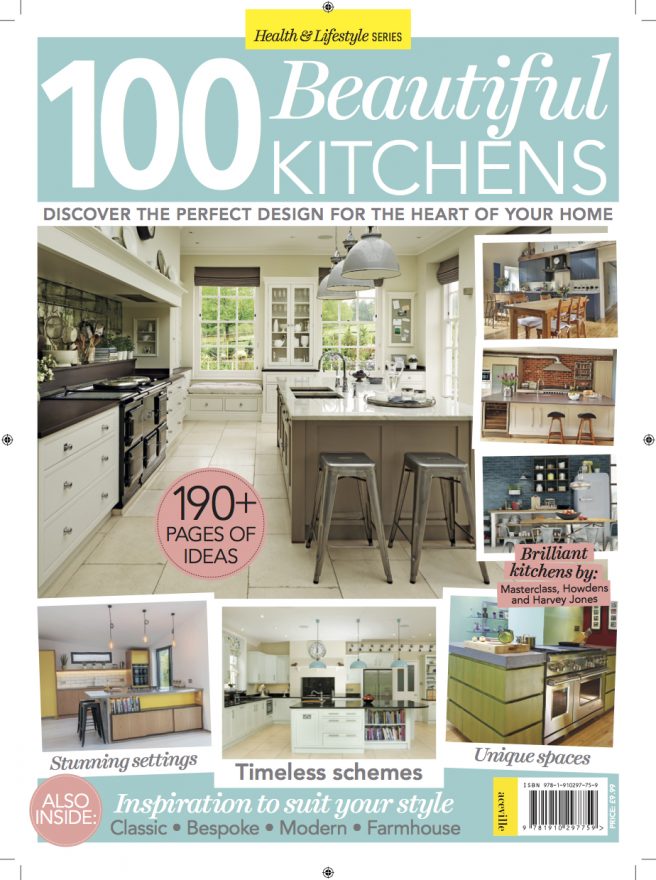 INDOOR/OUTDOOR KITCHENS – THE TREND CONTINUES
20th July 2017
Kitchen Bedroom Bathroom magazine have this month run a feature on the continuing trend for indoor/outdoor kitchens. Introducing walls of glass and similar flooring treatments for both internal and external areas really improves the spatial awareness and floods the home with natural light. The British weather probably has a lot to do with the sustained popularity of this design as it brings the outdoors in, even on the most dismal days. Our beautiful Wandsworth kitchen was chosen as a perfect example of how to design a practical kitchen/diner which also doubles up as a glamorous entertaining room. A space that offers a cool relaxed vibe in the sun-filled summer evenings and a cosy but elegant ambience in the short days of winter.
BESPOKE KITCHENS All The Rage
16th March 2017
Our Wandsworth kitchen has featured in this month's Kitchen, Bathroom & Bedroom magazine as part of their Bespoke kitchen feature. Showcasing the advantages of bespoke design, the feature draws on the elements which make a kitchen truly bespoke, such as the tailored design principles we adhere to. There is a growing trend towards bespoke, be it kitchens, fashions or even cars, as discerning consumers recognise the value of creating something truly unique and designed for their tastes and lifestyle.
Kitchen Trends
21st February 2017
Our Esher kitchen has been chosen by leading interiors magazine Ideal Home to showcase one of their key trends for 2017 – Colour! The island unit is hand-painted in Fired Earth's Chalk Violet, the glass splash-back colour matched for maximum impact.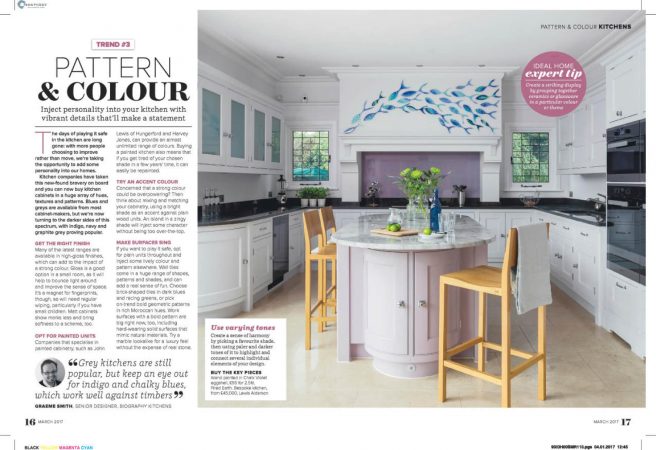 UTOPIA COVER STORY
11th March 2016
Our beautiful Esher kitchen has graced the front cover of this month's prestigious kitchen and bathroom bible Utopia. The full case study can be found inside. 'Express Yourself' is our mantra and often one of the main reasons our clients choose a Lewis Alderson kitchen. The ability to have a truly bespoke design is what sets us apart.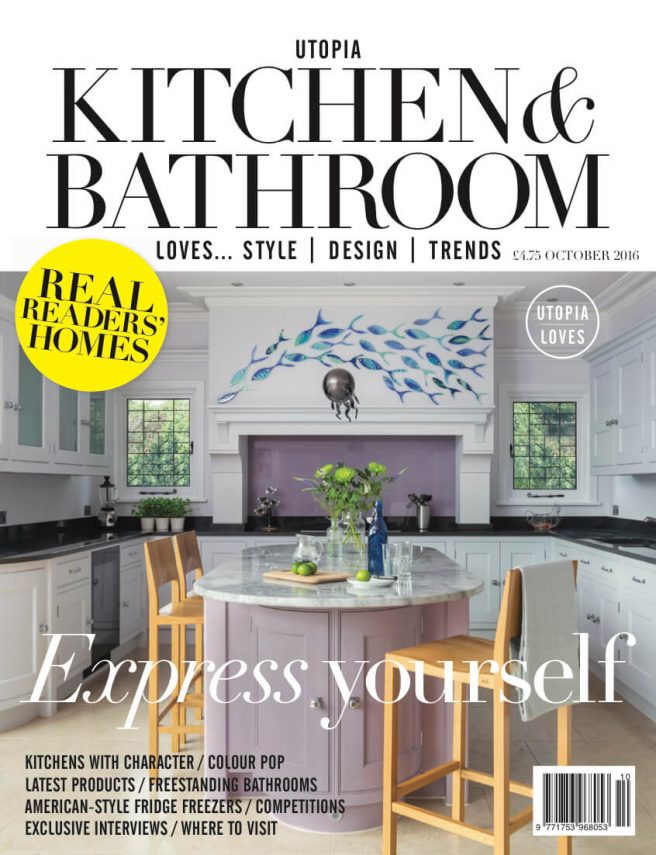 IDEAL HOME
11th March 2016
Ideal Home the UK's biggest selling Interiors magazine have showcased our Surrey Kitchen in this month's Kitchen Special. Our kitchen was chosen for the mix of fitted and free-standing furniture within the design and the clever colour palette which contrasts shades of grey with a pop of aubergine on the free-standing Larder. To view this kitchen in more detail see our Portfolio section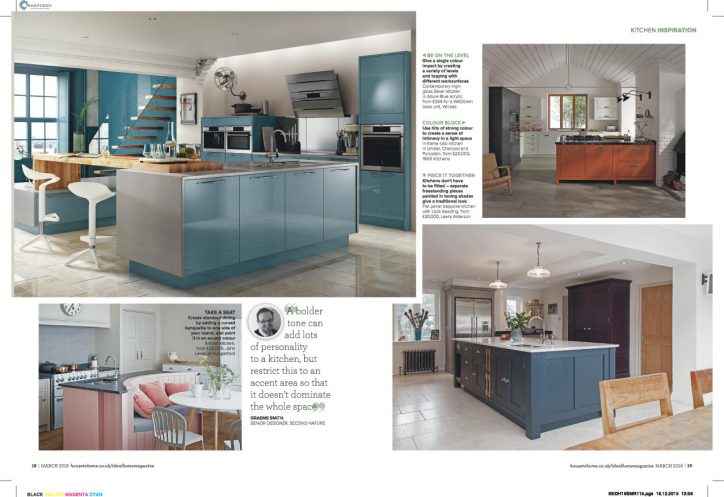 DESIGN INSPIRATION
11th March 2016
Our Hampshire Kitchen has been featured in this month's Essential Kitchen & Bathroom Business as their Design Inspiration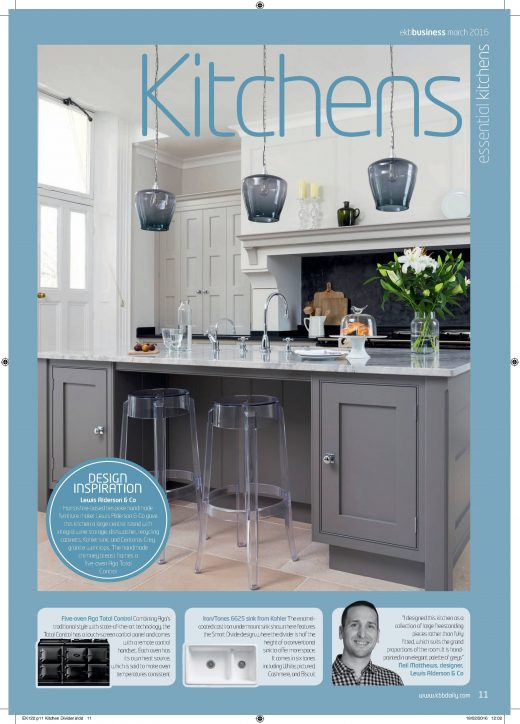 CHELSEA GLAMOUR
10th November 2015
Our beautiful Chelsea kitchen was profiled in October's Beautiful Kitchens magazine. Our Edwardian style bespoke units were hand-painted in a subtle palette of greys. Luxurious touches include antique mirrored splashbacks, polished river valley granite worktops and the stunning range cooker by Lacanche.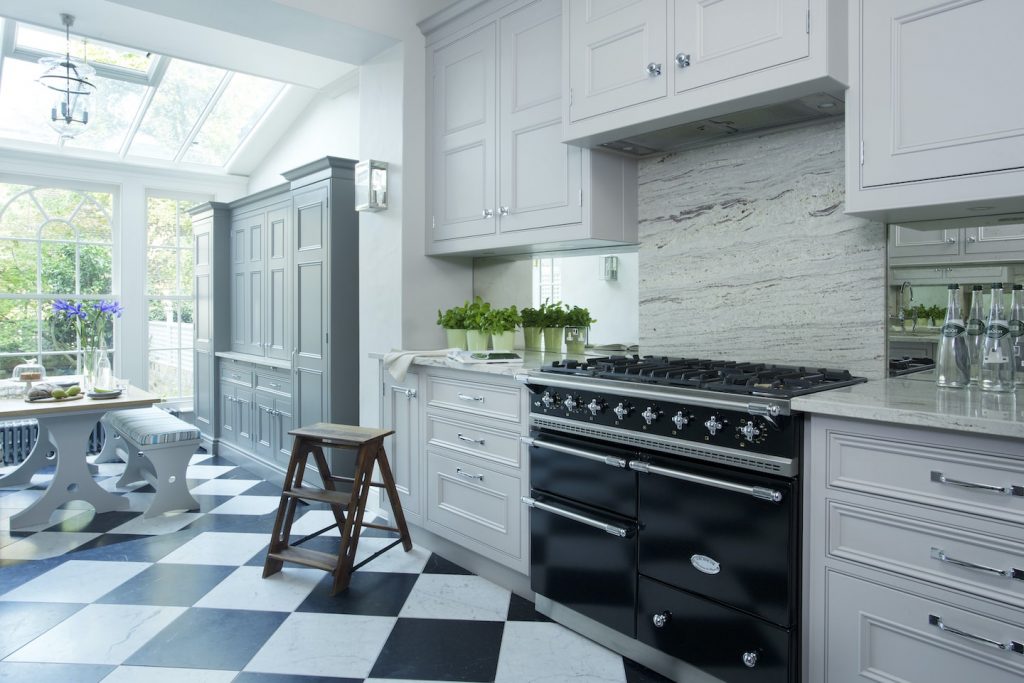 BEAUTIFUL KITCHENS COVER STORY
8th May 2015
We have once again been lucky enough to grace the front page of Beautiful Kitchens magazine. The cover story forms part of a 6 page case study entitled Amazing Greys which details the beautiful kitchen we created for the Sharma family. Features include a large central island, bespoke larder and bi-fold storage cupboards. The kitchen was hand-painted in a mixture of greys and aubergine with granite work surfaces.
Get in touch and let us design the kitchen of your dreams.
BEAUTIFUL KITCHENS FEATURE BARNT GREEN
21st May 2014
We are very proud to have another project featured in the March 2014 issue of Beautiful Kitchens. We would like to thank our wonderful clients Mr & Mrs Bennett, the fantastic editorial team at Beautiful Kitchens and the photographer for capturing the feel of the kitchen so well.
COUNTRY HOMES AND INTERIORS FEATURE
27th August 2013
As a design led business Lewis Alderson are very happy to be recognised by Country Homes and Interiors magazine for our design work in some of the more difficult areas of the house. This month we have been featured in their article about Laundry Rooms. Thanks to the editorial team at Country Homes and Interiors.
FIRST BEAUTIFUL KITCHENS FEATURE
15th January 2013
We are extremely proud to have our first kitchen editorial in the February 2013 edition of Beautiful Kitchens magazine. To add to our excitement, our Georgian Home kitchen featured in our portfolio page also made the front cover. We are extremely grateful to the kind team at beautiful kitchens, and to Emma & Robert for allowing us back into their lovely home. Lewis Alderson will be featuring advertisements throughout 2013 in beautiful kitchens, and hope this piece of editorial to be the first of many exciting new projects featured.
Header photo by cottonbro