Grey kitchens can be a way to achieve a sophisticated neutral appearance without the starkness of white. Grey can vary from light, almost off white tones to rich, deep and dark charcoals that make much more of a statement. Read on to discover the answers to the most popular questions in our grey kitchen FAQ blog post.
Is grey a good kitchen colour?
Grey has been an extremely popular colour for kitchen design in recent years and the theme looks set to remain. The many different tones of grey, mean that by mixing different palettes, textures and materials, grey kitchen design will never be dull.
From neutrals through to dramatic darks, grey is a simple colour that can be paired with many other tones to suit contemporary, classic or more traditional kitchen styles. Grey can work as a neutral backdrop to brighter accessories, appliances and soft furnishings or it can be the main event.
What worktops suit grey kitchens?
Almost any colour and style of worktop will work with a grey kitchen, from whites and light neutral shades through to soft woods, darker shades and black. Pair a grey kitchen with natural stone, man-made materials or the beautiful grain of wood.
Use paler shades of grey on cabinets pared with the beautiful grain of a natural stone worktop, to create a sophisticated and grown-up design. For an injection of fun or for a more family friendly scheme, consider darker tones and the fantastic range of man-made worktops which are hard wearing and low maintenance.
What colour and style floor goes best with a grey kitchen?
For longevity it is best to go with flooring in a natural stone or wood to provide a neutral backdrop which won't tire or need replacing as colours and other styles within the room change. Kitchens are a busy part of the home so always go for flooring that is hardwearing, fairly forgiving and easy to maintain. Porcelain tiles are an excellent choice as they are naturally non-slip, scratch resistant and extremely low maintenance.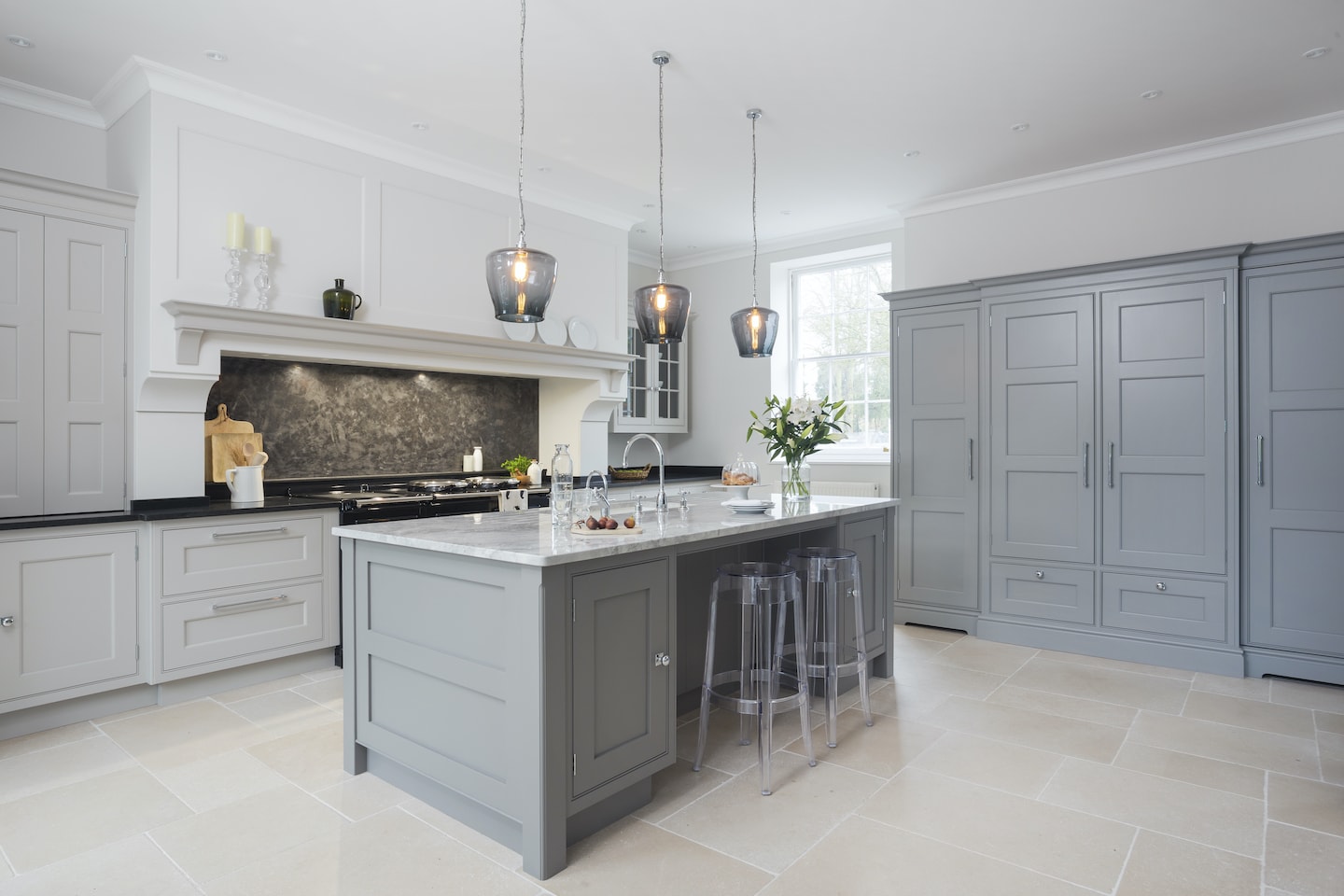 What are the best colours to complement a grey kitchen?
Grey is available in so many different tones that almost any colour will complement it. For monochrome schemes mix light greys, charcoal and black. For neutral classic kitchen designs, use mid grey tones with off-white and pale pastels. For playful designs and child friendly kitchen looks, opt for mid to dark grey tones and pair with brights in pink, orange, yellow or green.
How to add warmth to a grey kitchen?
Add warmth to any kitchen design with different textures in tonal colours for a layered effect. Soft furnishings such as curtains, blinds, cushions and throws will add warmth and are a natural way to introduce an accent colour.
Mix different types of kitchen lighting to create contrasting moods from day to evening by combining down-lighters with pendants and table lamps to provide different pools of light depending on the occasion.
In north facing kitchens which are naturally darker, use cosy accessories and warm accents of colour in yellows, oranges, reds and pinks. In large kitchens or those with lots of natural light, layer cooler tones in different textures to provide a warm and homogenous luxuriousness.