Welcome to our Blue Kitchen FAQ, where we talk through the most commonly asked questions when considering using blue in a new luxury kitchen design.
Can a kitchen be blue?
Absolutely and in fact Blue has become extremely popular for kitchens in the past couple of years, especially the darker tones. Blue is a classic colour and there are hundreds of shades to choose from. The whole kitchen could be painted in one shade or you could opt to use blue as an accent colour on an Island or freestanding piece of furniture such as a dresser.
Is blue a good colour for a kitchen?
Darker shades of blue work very well in kitchens, the colour is luxurious, classic and easy to maintain and keep clean. Use it for the whole kitchen or as an accent colour as part of your interior design. Lighter shades of blue can be restful and work well pared with natural woods. For a layered effect, consider texture and a mix of blue tones throughout cabinets, soft furnishings and kitchen accessories.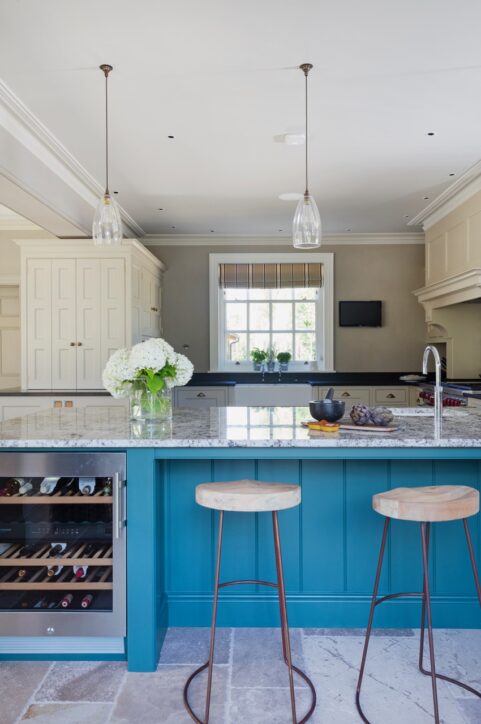 Will blue kitchens go out of style?
Kitchen colours go in and out of style all of the time, as do material choices. However if you opt for a solid colour choice in a classic tone you can't go too wrong.
Which colours complement a blue kitchen?
Blue kitchens pare beautifully with pale coloured worktops such as Granite, Corian and Marble and with stainless steel appliances. Lighter shades of blue also work well and these colours can be combined with wood, creams and buff to provide a soft airy feeling to your kitchen design.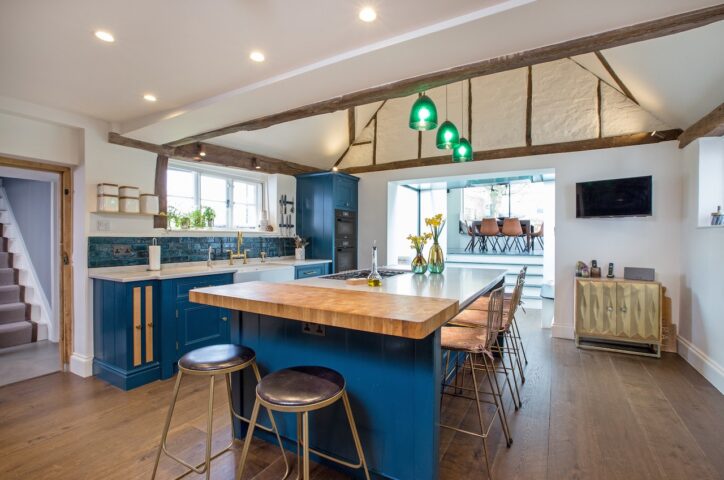 Is light or dark blue best in a kitchen design?
Most blue colour tones will work in a kitchen but the choice depends partly on the natural light within the room and your own design preference. Darker tones can look more dramatic, especially if used across all of the cabinetry. Alternatively, use blue as an accent colour on the Island, a dresser or perhaps even an appliance such as an AGA, and keep the rest of the scheme neutral. Lighter blues such as a 'Tiffany' blue can make a kitchen look very elegant, especially when pared with light coloured worktops and simple accessories. If you're not brave enough to paint your cabinetry blue, opt for blue walls or kitchen accessories to enliven a neutral kitchen design.
Where can I buy a luxury blue kitchen in the UK?
Blue kitchens are very popular at the moment so most kitchen companies will stock a range, though some of these may only be available in one colour choice. For luxury kitchen design a bespoke kitchen retailer, such as Lewis Alderson, can tailor your kitchen to your exact requirements and their hand-painted cabinetry can be finished in whatever shade you choose. The beauty of painted kitchens is that the colour can be altered at a later stage as your taste and interior design trends change.