SUNDAY TIMES FEATURE
The beautiful Vestibule from our Chelsea Kitchen has been featured in the Homes Section of the Sunday Times. The article entitled 'What Families Want' includes our guidance on designing hallway and boot room furniture to maximise space and storage. For more information please get in touch on 0845 474 0854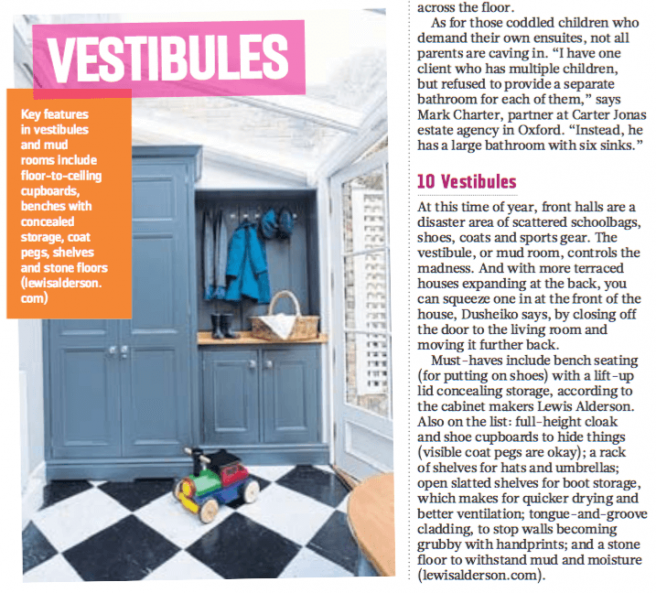 PANTRY PORN
Our stunning Hampshire Larder is the lead image in the Daily Mail's feature on Pantry Porn published this week! The feature examines the rise in popularity of Larder cupboards with the TV show Great British Bake Off named as one of the key inspirations.
Victoria Harrison, editor of Houzz UK, told MailOnline: 'Kitchens and storage are both huge search terms on Houzz, and when you combine the two you get the biggest kitchen trend of the moment – pantry cupboards'.
For more inspiration, check out our Houzz profile which shows lots more examples of our beautiful larder designs including full height, bi-fold cabinets and freestanding dressers!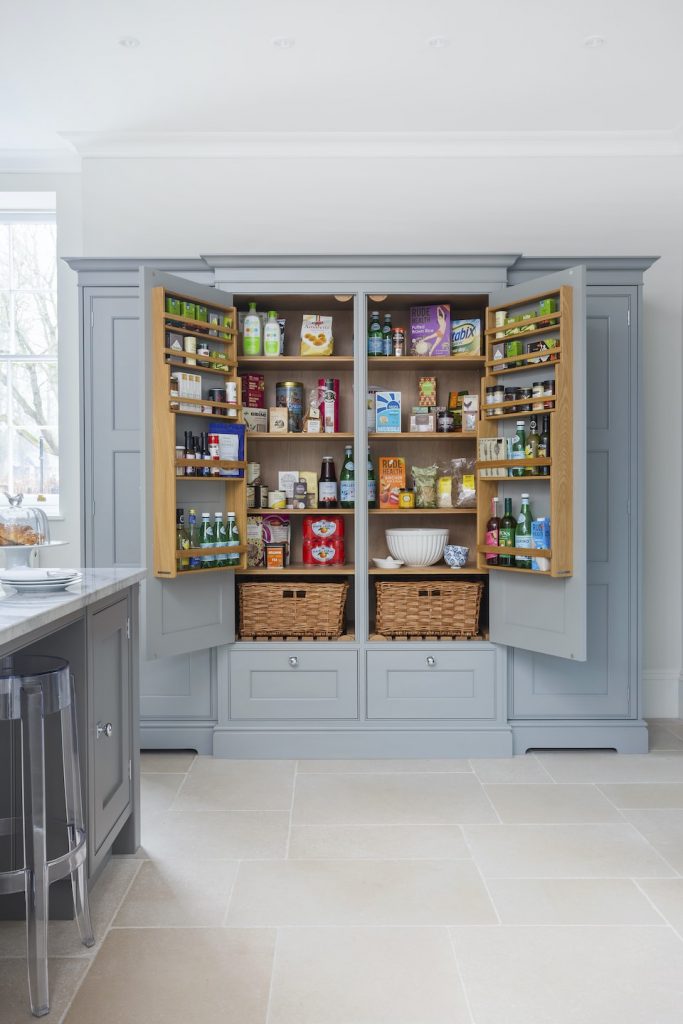 WALL STREET JOURNAL FEATURE
We are very proud that our beautiful Breakfast Bar cabinetry has been featured by the Wall Street Journal and included in their article 'Home Bars with a Higher Purpose'. The article discusses the myriad of uses for well designed cabinetry which can neatly house behind bi-fold doors a multitude of china, glassware, food items and smaller appliances. Not just for Breakfast, our bespoke service can create whatever your heart desires, perhaps a whiskey cabinet or space for beautiful glassware and champagne? Call us to discuss your requirements!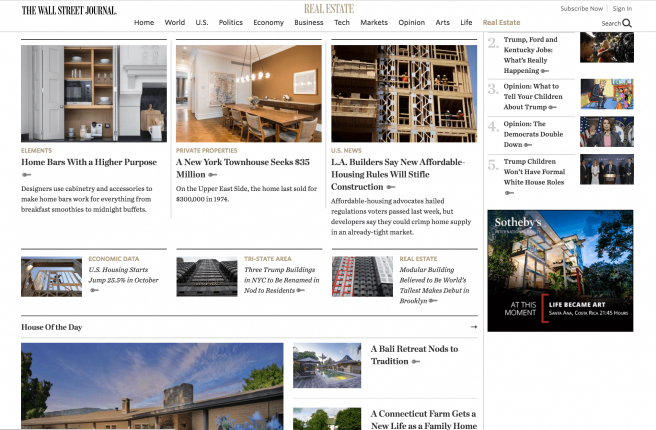 THE HUMBLE PANTRY
The Telegraph very kindly published our thoughts on pantries at the weekend, always a design favourite of ours, the humble pantry has come a long way since our grandparents day. A pantry or larder cupboard is now a much coveted part of any kitchen design as it offers so much flexibility in terms of storage.
With so many design permutations, a larder can be fitted in to most kitchen spaces and can work equally well as part of the fitted cabinetry or as a beautiful standalone piece of furniture. Ideal for storing all of your groceries in one place, we add integrated sockets so that smaller appliances can also be tucked away.
If space allows then a walk-in pantry is the epitome of luxury grocery storage and can include space for useful extras such as an overflow fridge, wine cooler, crockery and kitchen gadgets. Take a look at some more stunning examples in our Portfolio.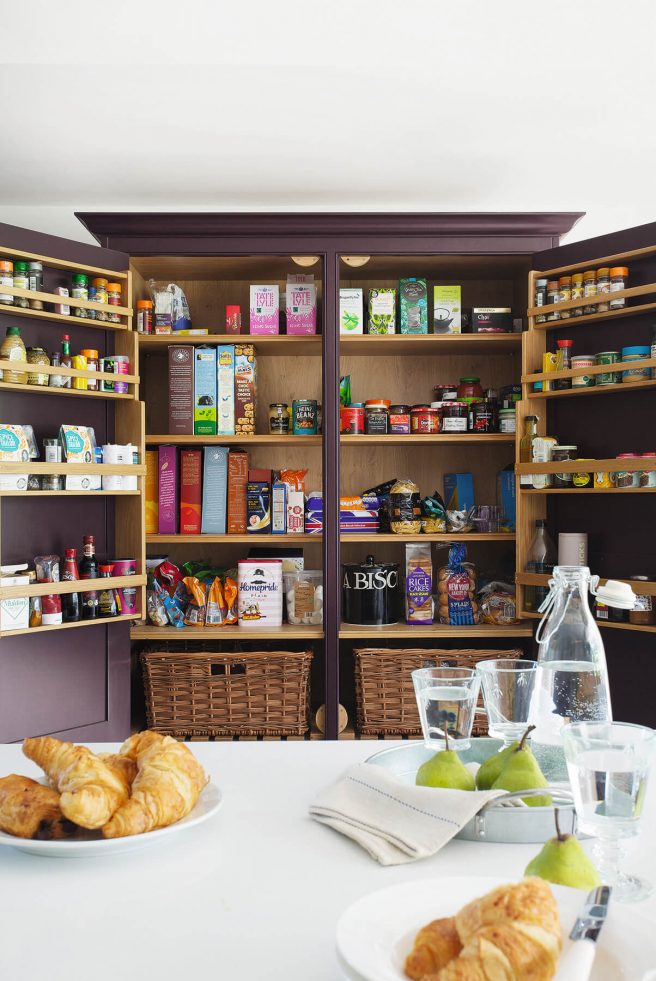 SUNDAY TIMES – THE ULTIMATE STEALTH LUXURY
It was lovely to be featured in the Sunday Times Home section again this week as part of their feature on Utility Rooms. Not strictly essential, but highly covetable, the humble utility room has become the nation's 'stealth luxury' with everything from laundry chutes to dog showers considered!
Providing optimum storage away from the kitchen area, a well designed utility room will ease your day to day living and keep your kitchen clutter free. What would your perfect utility room include? Get in touch and let us provide the solution.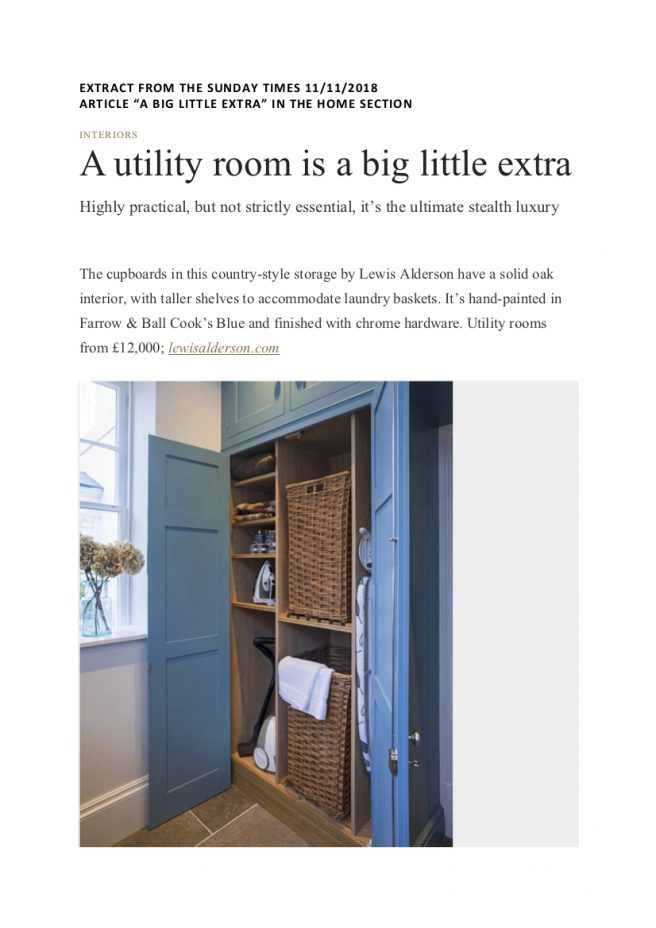 LARDER OR PANTRY?
We are proud to have been featured in the Sunday Times Home feature on "Larders or Pantry? The best ones to buy for stylish food storage." Interiors editor Katrina Burroughs chose our walk in Pantry as her stand out favourite and posted our photo directly to her instagram account @katrina_burroughs
Excerpt from the feature – Most homeowners still commission pantries in workhorse hues — shades of white or grey, green or blues — but there is a growing appreciation for statement colours that make the pantry the focus of the kitchen ….. Tom Edmonds, the design director of Lewis Alderson, paints his pantries in custom colours such as an English mustard hue called Condiment, and adds ceiling lights with hand-stitched silk lampshades from Beauvamp as a finishing touch. He advises clients who want to add value to their properties that a standout pantry can clinch a house sale. "They look fantastic on a house spec. They suggest a certain aspirational lifestyle. If a house has an Aga or a Wolf cooker, great. If it's got a beautiful pantry, that might be the thing that sticks in your mind, and it makes the difference."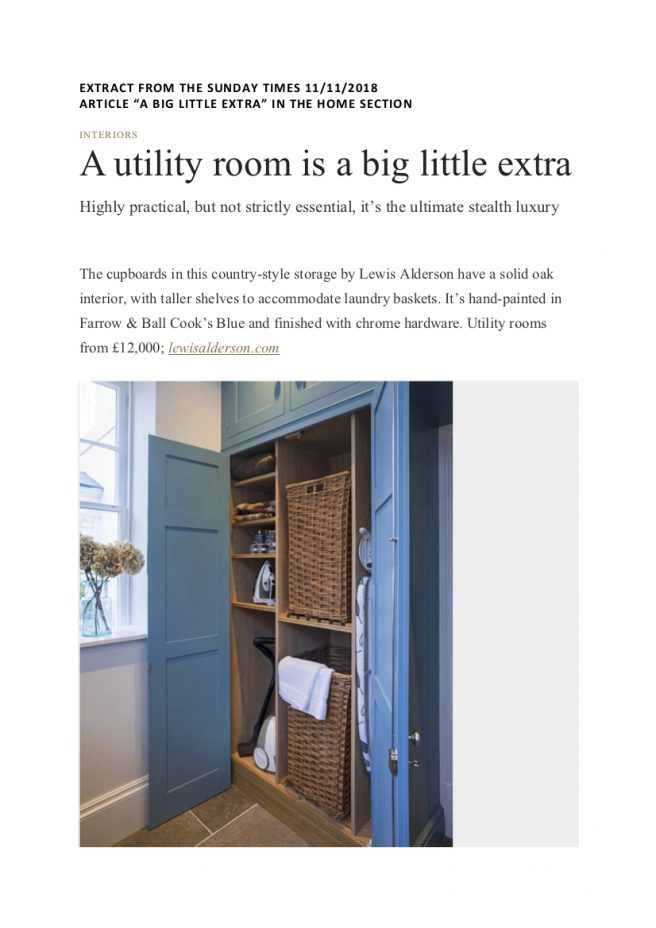 Featured photo by Bank Phrom on Unsplash